Year 1 2020 - 2021

Y1 Weekly Home Learning Timetable
Each day we have planned around 3 hours worth of content for you to complete at home. Please refer to Seesaw for your activities. Please complete the English and Maths lessons in sequence. You may choose to do more on one day than another to suit yourselves at home.
Weekly spellings will be uploaded on a Monday to practise daily and to write in sentences.
Monday

Tuesday

Wednesday

Thursday

Friday

Phonics

RWI Speed sound

– reading and spelling words

Phonics activities

Reading - Oxford owl




Phonics

RWI Speed sound

– reading and spelling words

Phonics activities

Reading - Oxford owl




Phonics

RWI Speed sound

– reading and spelling words

Literacy/Shared Reading activity

Reading - Oxford owl





Phonics

RWI Speed sound

– reading and spelling words

Literacy/Shared Reading activity

Reading - Oxford owl




Phonics

RWI Speed sound

– reading and spelling words

Literacy/Shared Reading activity

Reading - Oxford owl

Maths




Maths




Maths




Maths




Maths




Science

Geography

PE

PSHE/RE

Art/Music
Welcome to year 1.
We are very excited to meet you.
The year 1 team have added some videos for you to get to know them below.Year 1 welcome video
Unfortunately, we are unable to hold our usual information evening for parents; however, we have attached a powerpoint with some useful information for you.Moving from EYFS to year 1
If your child is self isolating they are able to access daily lessons please click on the 'Self-isolating Hub' tab on our home page.
Any questions please contact Mrs Horton via the school office.
| | | |
| --- | --- | --- |
| Class name | Teacher | Teaching assistant |
| 1A | Miss Patterson | Mrs Pugh |
| 1B | Mrs Molloy and Mrs Hughes | Mrs Wood |
| 1C | Miss Jones | Mrs Evans and Miss Hooker |
| 1D | Miss Price and Mrs Jones | Mr Kaitell |
Mrs Horton is the Assistant Head for year 1 and will teach and support throughout the unit.
Our Weekly Timetable
Day

Event

PE

Monday

Tuesday

Wednesday

Reading Books to be returned.

Homework completed.

1B, 1D

Thursday

1C

Friday

Reading books sent home.

Homework set.
Challenge Zone Area
We have been busy bee's the last few weeks in our challenge areas. We have built numicon cities, made our own superheros, used the bond builder app for number bonds to 6 and even created our own art work in the style of Matisse. Here are some photo's below. Keep checking the see-saw app for more pictures of your child's learning and for the weekly homework.
Road Safety Awareness
We have been learning about road safety this week in Year One. We have designed posters to teach other children about this. Take a look at some of the posters we made.
Autumn 2
RESPECT and behaviour
This half term we have been learning about the word EMPATHY, and what it means to us. This term our learning hero is David Attenborough. The children have been very informative about all the work that he has done to save the planet and the natural world.
The Year 1 curriculum
Literacy
The children are continuing with their daily Read, Write, Inc lesson, where they will learn a new sound each day. The children are encouraged to spot the special friends in the word first, then to sound it out before blending it to read the word. The children use their Fred fingers to pinch the sounds before writing the word.
During our writing lessons we are encouraging the children to leave finger spaces between every word, to start their sentences with a capital letter and full stop at the end of the sentence. Children refer to the speed sound charts to help with spelling choices during their writing.
Children will take part in oracy, shared reading and writing activities based on our focused texts:
Maths
This term's maths will focus on exploring numbers to 20, with specific emphasis on teen numbers, counting in twos, doubles and halving. We will use a mastery approach to practical problem solving, by taking each number within 10 to invest addition and subtraction operations, whilst incorporating, shape, space and measure in contexts.
Science
In Science we will be looking at the changes in each of the seasons, with a focus on Autumn - weather, clothing, temperature, hours of daylight and key seasonal features. We will then look at exploring and identifying everyday Materials, including some simple investigations, where we will be predicting the expected outcomes first.
Creative
Our art activities this term will be looking at the primary colours and how they can be mixed to make secondary colours. We will use the primary colours in our artwork to create work in the style of Mondrian. We will use a paint computer program to create Mondrian work. In cross curricular links to our work with shapes, we will look at the artist Matisse and try to re-create his work.
Geography
In Geography we will be continuing our work on the school community to expand our research to look at the local area, focusing on the human and physical features of Wallasey. We will hopefully be able to take the children on a fieldwork walk around Wallasey village.
R.E.
In R.E. we are learning about Rememberance day and why we wear poppies. At the beginning of December we will look at how Christians celebrate Christmas, including advent, the christmas story and how Christmas is celebrated in other countries.
HELLO YELLOW
Here are some photographs of the children in each class showing their support for mental health and wellbeing. We used props and made posters to promote discussion about mental health and feelings.
Homework
Every Friday the children in Year 1 will be given maths and spelling homework. This homework must be returned by the following Wednesday.
Reading
We would encourage children in year 1 to read every day and suggest that reading is a minimum of 4 times during the week. During the autumn term, we will be sending 2 books home on a Friday and they need to be returned by Wednesday. Please record any reading in your child's yellow readin diary.
RESPECT and Behaviour
During this half term the children will be learning about the word RESILIENCE and what this means to them. They will be thinking about how they can use resilience to overcome difficulties and to help them to progress academically and socially. Each week the teachers will nominate one child that they have noticed being resilient. These children will be known as our 'Learning Heroes'. They will receive a special certificate in assembly and will have their picture displayed on the wall. During the first week back at school the children have created class charters in which they discuss their own roles and responsibilities with regards to their behaviour and conduct in school. It has been a very positive way to start the school year with the children keen to follow their charters and stay in the positive behaviour zones.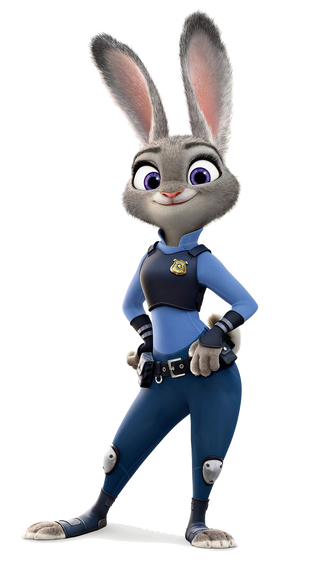 Each half term the children have a learning hero to help them to learn about positive character attributes. These people are a mix of famous people who the children may or may not have heard of. We are beginning the year with learning about a fictional character. Judy Hopps is featured in Zootropolis. She is determined to make the world a better place while breaking preconceptions about other species. She has had to show resilience to become the first bunny to join the police force. We hope that this learning hero will bring some fun as the children think about their own characters.
Year 1 Curriculum
Our curriculum map can be viewed by clicking on the attachment below.
The children will begin the year by focusing on learning and practising geographical skills in our school and local area. This will include bird's eye view, creating maps and making simple observations of their surroundings.
During their D.T. lessons children will be designing and making their own houses out of construction kits. We will have a special focus on giving feedback and evaluating our designs.
Children will continue to have daily Read Write Inc lessons. During these lessons they will practise their phonics and read and write daily. Children will also take part in shared reading and writing lessons throughout the term. The key texts that they will be using this term will be:

Additional Information
If you would like more guided reading books to complete with your child at home please visit https://www.oxfordowl.co.uk/ and create a free account. The books are banded and have questions at the end to aid comprehension.
If you would like your child to practice their phonics sounds we recommend www.phonicsplay.co.uk which is packed with free games.

If you feel you want more resources at home to support the teaching of phonics, the RWI sound cards are available on amazon. Speak to your class teacher if you are unsure whether set 1, 2 or 3 is appropriate for your child.
If there is anything else feel would be useful to have on the website please ask your class teacher.
Files to Download
Year 1: St George's News items
Year 1: Blog items
There are no blog items to display
Year 1: Our Gallery items
There are no Our Gallery items to display
Year 1: St George's Calendar items